---
---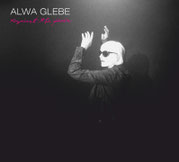 MUSIK TELEGRAPH
Musik Magazin, Berlin, online edition
(Germany / Dec. 2019)
ALWA GLEBE
"Against The Pain"
The third album "Against The Pain" is bursting with "unsettling calm"
The band
The meanwhile 59 year old (!!) German musician Alwa Glebe looks back on a correspondingly long musical past. In the late 70s she began her activities in the music business and formed the German-British band Index Sign from the early punk and wave movement. Another milestone is her accompanying the Simple Minds as a special guest on their Sons & Fascination tour.
During long stays abroad in the 80s, she developed more and more and finally began to work on her own songs. She returned to Germany and began studying philosophy and German literature in the newly reunified Germany.
It wasn't until 1999 that Alwa Glebe made her debut as a singer and solo artist, although it was not until the second album "Irrlichter" that she established her on the scene as "Dark Chanteuse". Various international magazines became aware of her and did not skimp on hymns of praise.
Musically, the lady with the impressively soft and dark singing voice ranks in an exciting niche that only a few musicians "dare" to do. Alwa Glebe bears the title "Dark Chanteuse" not without good reason, because musically it is exactly what she creates with slow, sometimes very melancholy songs: dark, modern chanson.
The album
The third studio album by the musician, who has been compared to Marianne Faithful and Graces Jones, among others, impresses with its consistent minimalism in terms of the instrumental arrangement. Primarily a guitar, sparsely used drums, strings and sometimes an organ sound, the vocals don't have to deal with more to stay in the foreground. This very economical use of instruments automatically directs the listener's focus to the voice and text of the chansonette. This is where it comes into play, the "unsettling calm" mentioned at the beginning. The day can have been so hectic (and my day was really not nice to me until I was working on this review ...), put on headphones and listen to Alwa Glebe ... .. musical enjoyment, slowing down and shutting down can be so easy.
Conclusion
So far, I only knew a modern form of chanson from Katja von Kassel, who, in contrast to Alwa Glebe, mainly relies on electronic music. The present album "Against The Pain" was an interesting addition to my horizon. Chanson doesn't have to sound dusty. Alwa Glebe's modern approach sweeps the reputation of the old-fashioned away from this genre and, at 41 minutes, does not give us a particularly long time, but a particularly quiet and valuable time.
Author: Dirk Busse
---
SONIC SEDUCER
Music magazine, print edition
(Germany / Dec. 2019 / Jan. 2020)
ALWA GLEBE
"Against the pain"
(Cuptose Records)
Piano chords fall softly in the ear, cautious strings join in, the arrangements impress with spartan grace, and in the midst of these restrained, noble sound constructions Alwa's touching, fragile voice hovers, which seeks and finds an intimate proximity to the listener's ears and mind .
What the musician performs almost 13 years after her last album "Irrlichter" may constrict the listening person. A wistful sadness arises from these quiet song jewels, which in large passages dispense with drum elements and seem as if they were climb a dream cabinet - or from dark rooms of heavy, but not hopeless loneliness. Indeed, the moods and feelings, the quiet stories of loss and new beginnings and the insatiable pain, can put the listener into an imaginary dialogue with the artist, as if the very own sensations on the tongue and in the heart of the protagonist were given a new shape. Days of outstanding bliss may be gone forever - and yet there is hope for something new.
Alwa Glebe is able to pass on this magical formula in a penetrating form. On top of that, it is worth mentioning their very independent cover versions, with which they play classics n Bryan Ferry and Lou Reed breathed new life.
Author: Kym Gnuch
---
AMBOSS
Music magazine, online edition
(Germany / November 2019)
ALWA GLEBE
"Against The Pain"
(Chanson / Minimalistic Wave)
Rating: Good +
Release: 09/27/2019
Label: STF Records / Cuptose Records
To get to the singer's biographical origins, you have to look back a long way. At the end of the 70s she was a co-founder of the new wave band "Index Sign", then various studio projects, studying philosophy and German studies, '99 debut album, 6 years later her second work "Irrlichter". And now, almost a decade and a half later, the third work. Alwa Glebe took her time, a lot of time, to pick up with "Against the Pain" where "will-o'-the-wisps" left off. Reduced, dark elegies, a gentle, easily fragile voice. Texts with a philosophical touch. Longing, beguiling requies packed in minimalist sound spectra, which always direct the focus to the singing.
You have to look far back when you look at the two cover versions on the album. "Strictly Confidential" by Roxy Music and Lou Reed's "You Wear It So Well" come from the early 70s and are reinterpreted here with the necessary humility before the original. In addition, "I felt a Funeral, in my Brain" is a setting of a poem by the American poet Emily Dickinson.
The Dadaist soundscapes merge with the singing, the calm and gentleness is latently counteracted by texts that stimulate thought, but which as a whole also arouse astonishment in the listener. The dirge envelops you like a warming blanket, lets you fall, deep ... but extends your hand. The mourning as a seductive world into which you want to escape, very deep ...
In contrast to the first two albums, Alwa sings in English this time. That could indicate an international orientation. And international media should definitely come to the comparison of "female Nick Cave", especially in relation to the master's last two albums.
The title song and the following "by your side" are determined by acoustic strings. There are small patches of keys accentuated. The overall picture is staged a little spherically. In between, Alwa tells her stories, with a dark voice she lays despair on the altar of the various emotional worlds. Regardless of whether she goes on, reminisces or simply describes her feelings in pictures, she leaves an impression whose elegance in connection with the music creates an aesthetic that cools you in the warmth and warms you in the cold. "Don't be scared" could soundly reside in Iceland, while "Happy Days", contrary to the title, presses a wasteland into musical forms that soundtrack-like.
Conclusion: Overall, a work that touches the senses, whether as a depressant or as autogenic training for relaxed red wine evenings. Alwa Glebe always manages the balancing act between devotion, humility, fragility and the self-determined, lively and life-affirming excursion through various facets of grief. With some texts you would like a small outbreak, but it would run counter to the grandeur of the whole. Alwa Glebe is accompanied by an old friend who has been Lennart Lessmann since "Index Sign" times. The lady's first two CDs are sold out, there will be no new edition, but a release is planned for next year with the songs from the first albums.
Author: Andreas
---
ORKUS!
Music magazine, print edition
(Germany / Dec. 2019 / Jan. 2020)
ALWA GLEBE
"Against the pain"
(Cuptose Records)
Woe and sound
With her solo project, Alwa Glebe established herself as a "Dark Chanteuse" and creator of extraordinary soundscapes. "Against the pain" opens a new chapter in which she presents English texts with her unique voice. It is still pain to which the words are dedicated. But it is by no means a painful experience when flowing melodies, such as those of "Don't be scared", nestle around your heart and soul. The touching intonation of the vocals merges with the instruments to create a sound full of intensity.
This particular form of calm resides in the compositions, the expressiveness of which could not be more haunting. The analog technology of Castle Studios flatters this sound, Alwa Glebe shows her talent for conveying moods in two cover pieces ("You wear is so well", "Strictly Confidential") in addition to her own compositions. In "I felt a funeral in my brain", a poem by Emily Dickinson was set to music with an emotionality that cannot be avoided. "Against the pain" envelops the listener in a deep atmosphere that entertains and fascinates.
Author: Martina Wutscher
---
---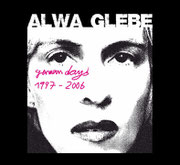 ORKUS!
Music magazine, print edition
(Germany / Summer 2021)
‭ALWA GLEBE
‭"german days 1997-2006"
‭(Cuptose Records)
Time travel
Those who were inspired by the current album "Against the pain" now have the best opportunity for a retrospective. With "German Days 1997-2006", a compilation is released that presents a successful cross-section. The selected excerpts from the albums "Debut" (1999) and "Irrlichter" (2005) are of course also suitable for rediscovering the solo work of the "Dark Chanteuse" and enjoying its fascinating sounds. It is easy to let oneself be taken in by the atmospheric arrangements. As thoughtful as they are expressive, they always carry Alwa Glebe's voice, whose unique character breathes life into lyrics that are unsparing and sensitive at the same time. "There is no happiness" is captured in "Glück" in the midst of such beautiful sounds that this tension alone creates an atmosphere that is deeply moving. Only the words in "An der Brücke stand" did not come from the artist's pen. The aptly chosen text by Friedrich Nietzsche fits in with the other pieces in an emotional adaptation. Between "madness" and "love" lies a captivating world of sound that is worth exploring at any time.
Author: Martina Wutscher
---
 SHORT CUT
Review?
ALWA GLEBE
After the brilliant current album "Against the pain", ALWA GLEBE surprises with an excerpt from her early work of the nineties and noughties. The songs on the CD compilation "German Days 1997-2006" were described more than 16 years ago as "another dimension, a realm of its own, unmistakable! A real tip for all fans, but also for newcomers to the unique sound world of ALWA GLEBE.
---
SONIC SEDUCER
Music magazine, print edition
(Germany / May 2021)
CD REVIEWS
ALWA GLEBE
"German Days 1997-2006"
(Cuptose)
The title says it all: This is a compilation of the first two albums "Debüt" and "Irrlichter". Alwa Glebe, a protagonist of the early German New Wave scene, founded the project Index Sign in 1979, with which she released two albums on the legendary No Fun label and even went on tour with Simple Minds. Index Sign disbanded in 1982. After various jobs as a DJ and as a freelance lyricist, Alwa Glebe alias Susanne Gronemann later studied philosophy and literature, and then, in the early 90s, started as a solo artist. Since then, her music has been very feminine, electronic and pathetic, but nevertheless tidy. "Gothic chanson" is often used as a paraphrase for her music and it hits the nail on the head. Beyond music, she made a name for herself after the two albums summarised here in "German Days" by exploring migraine as an artistic inspiration and was involved in the documentary "Out Of My Head". Glebe's manageable discography may be the reason for her rather low profile, in addition to her very special music - in any case, after the two aforementioned albums, only the third album "Against The Pain" by the still active artist was released in 2019, after years of preparation.
Author: Uwe Marx
---
NEWS
The "Dark Chanteuse" Alwa Glebe has released a special compilation album with ten tracks. Entitled "German days 1997-2006", it presents us with an excerpt of her early work as a solo artist, which is now available in digital form on all streaming services. Long before she went it alone musically, Alwa Glebe was already very active - for example in the punk and wave band Index Sign, which was formed in the late seventies, and as a guest musician with Simple Minds. An experienced musician with an exciting CV.
---